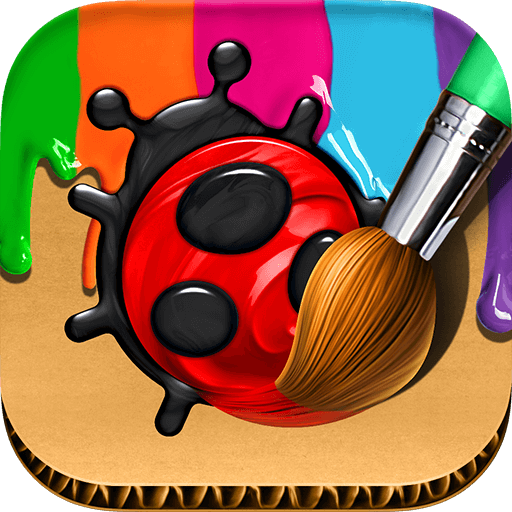 Bug Art
Imagine, create, and play with Snap Two Studio's Bug Art! Watch your child's creativity blossom as they experience their own creations coming to life. Uniquely combining the abilities to create and play, Bug Art allows your child to paint, design, and explore in a whimsically styled setting.
CREATE: Your child can choose to free paint whatever they imagine, learn to draw with interactive tracing, or even design their own bugs that come alive. Our unique art board features traditional artist tools as well as stamps, stickers, and bug brushes. Yes, bug brushes! Whether it's a paintbrush or a caterpillar, your child is in complete control of their creation. Want to take your bug design for a test drive? Just tap the magic button to see the bug immediately transform into a walking or flying insect that they can control.
PLAY: Using the child's very own artwork, they'll be able to play, explore, and challenge themselves in various games and environments. They can try their hand at fast and furious racing against 13 uniquely designed bug competitors like "Sparky", "Kicks", and "Turbo" in Bug Race. For a more calm and peaceful challenge, they can score points by steering their own butterfly, dragonfly, or bee through dandelion gates in the lush gardens of Butterfly Valley. We've even added special playgrounds for both ground and airborne bugs where your child can explore at their own pace, meet funny characters, play mini games, or just discover cool stuff.
Features
Creative and Entertaining
A mixture of art and game to nurture creativity and entertain.
Bug Designer
Design and paint your own bugs that come to life.
Lots to Use
20+ design tools, including camera and bug brushes that you control..
Plenty of Extras
Ground and sky based environments to explore with your bug creations!
Fast Paced Bug Racing
Play a fast paced racing game with your ground based bug creations.
Tilt to Steer Flying
Play a tilt to steer game using your flying bug creations.
Interactive Environments
Supports multiple user profiles for family or school environments.
Data Policy
Strict
This app does NOT collect any data. All saved scores, achievements, profiles, and other data is private to your device and associated platform account (ie. iCloud). All of the apps in the Bugs and Buttons series adhere to this strict policy.
Gallery
The following images are from actual game play. Slight differences may appear due to the device capabilities.